'It's Moments Like This' TV Ad
Verification of our 2019 VisitEngland Accreditation claim
Page last updated: 22nd January 2020
'5 star holiday village'
In November 2019 we were awarded the 5 star VisitEngland accreditation for the eleventh consecutive year. VisitEngland is England's national tourism body funded by the Department of Digital, Culture, Media & Sport (DCMS).
Thousands of properties take part in VisitEngland assessment schemes each year.
Ribby Hall Village enters the 'holiday village' scheme, meeting the following criteria:
"Holiday village: This will be made up of a variety of types of accommodation but some must be fixed or permanent. There will be a swimming pool and a licensed bar on site, and a range of entertainment, sports and leisure facilities available throughout the operating season. - VisitEngland*
Each year assessors from VisitEngland visit attractions and properties; they evaluate and give a quality score on all aspects of the accommodation and service. The total of all these scores establishes an overall percentage score for quality. Based on this score, establishments will be given an overall quality rating on a scale of One to Five Stars.
Confirmation of our current (2019-20) five star accreditation can be downloaded here.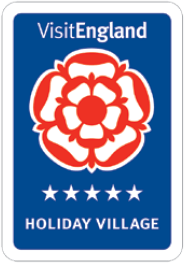 'North West's only 5 star holiday village'
VisitEngland have provided a list of all 5 star holiday villages in England. This list, as seen below, provides verification of Ribby Hall Village being the only 5 star holiday village in the North West region.
This is clarified by Ribby Hall Village and VisitEngland every six months as properties and attractions may choose to join or leave the accreditation scheme.
| Establishment Name | Establishment Type | Locality | Region | Min Rating |
| --- | --- | --- | --- | --- |
| Potters Resort | Holiday Village | Hopton-on-Sea | Norfolk | ★★★★★ |
| Gwel an Mor | Holiday Village | Portreath | Cornwall & Isles of Scilly | ★★★★★ |
| Ribby Hall Village | Holiday Village | Wrea Green | Lancashire | ★★★★★ |
| Faweather Grange | Holiday Village | Bingley | West Yorkshire | ★★★★★ |
| Retallack Resort and Spa | Holiday Village | St Columb Major | Cornwall & Isles of Scilly | ★★★★★ |
| The Park, Cornwall | Holiday Village | Newquay | Cornwall & Isles of Scilly | ★★★★★ |
- VisitEngland - January 2020
References:
* www.visitenglandassessmentservices.com/our-schemes/holiday-villages 22nd January 2020