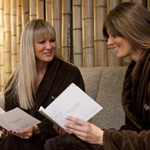 ELEMIS BIOTEC Facial Treatments at The Spa Hotel, Lancashire
When it comes to choosing a BIOTEC over a traditional hands on facial, it comes down to preference.
BIOTEC facials work using 8 high-potency activators that penetrate deep into the skin, recharging cells energy. BIOTEC is fully supported by clinical trial results with 91-100%* of people agreeing that facial efficacy improved after just one treatment. If you are looking for more instant results for concerns such as re-contouring and lifting, then BIOTEC is the choice for you.
If you're not sure which one to book, or have any skin concerns, just let us know. FREE consultations are always available.
*Independent Clinical Trials
---
Book any three 60 minute BIOTEC facials as a course for £225
---
Elemis Face Technology, Anti-Ageing
ELEMIS BIOTEC Line Eraser
Target wrinkles and energise the skin towards optimum performance with microcurrent pulses and red and blue light therapy. A powerful rejuvenating clinically proven* facial treatment that effectively irons out wrinkles and fills out lines.
60 Mins £80, 90 Mins £115
---
ELEMIS BIOTEC Firm-a-Lift
Rediscover the architecture of your face with this ground-breaking blend of massage and sculpting galvanic technology. Skin is visibly strengthened for a contoured complexion that is remarkably lifted.
60 Mins £80, 90 Mins £115
---
ELEMIS BIOTEC Anti-Pigment Brightener
This treatment dynamically tackles the appearance of uneven skin tone, discolouration and age spots. A unique complex of brightening actives, ultrasonic peel and light therapy reveal a youthful and translucent complexion.
60 Mins £80, 90 Mins £115
---
ELEMIS BIOTEC Skin Resurfacer
This revolutionary and clinically proven* facial addresses skin tone, blemishes and fine lines to transform the texture of the skin. Ultrasonic peel, massage and light therapy deliver a complexion that has never been smoother.
60 Mins £80, 90 Mins £115
---
Elemis Face Technology, Skin Solutions
ELEMIS BIOTEC Radiance Renew
This cellular-boosting treatment targets sluggish complexions. Ultrasonic peel stimulates the removal of impurities and dead skin cells, while galvanic rejuvenating current restores moisture for instantly clearer and brighter skin.
60 Mins £80, 90 Mins £115
---
ELEMIS BIOTEC Blemish Control
A deep cleansing facial that detoxifies and repairs damaged tissue. Ultrasonic vibration, massage, steam and galvanic currents thoroughly decongest and exfoliate. Powerful anti-oxidants soothe, while light therapy helps clear the complexion.
60 Mins £80, 90 Mins £115
---
ELEMIS BIOTEC Sensitive Skin Soother
This anti-redness treatment soothes sensitive skin. An oxygen infusion encourages cellular restoration, while red light therapy and calming anti-oxidants improve the skin's ability to repair itself. The result is calm and soothed skin.
60 Mins £80, 90 Mins £115
---
BIOTEC Add-On Treatments
Add one of the following treatments to any 60 minute BIOTEC Treatment (not available as stand-alone treatments).
ELEMIS BIOTEC Eye Treatment
BIOTEC Technology is refined enough to gently stimulate and tighten the delicate eye area, without disturbing fragile skin.
30 Mins £35
---
ELEMIS BIOTEC Neck Treatment
Microcurrent reminds the muscle to firm up, while the Arjuna-infused jowl and chin mask lifts and tightens for super-sleek contouring.
30 Mins £35
---
ELEMIS Couture Technology
Time to switch your skin on. Combine any 25 minute Elemis Technology BIOTEC Facial with your personalised 25 minute Freestyle Deep Tissue Massage or 25 minute Deeper Hot Stones Massage.
60 Mins £80, 120 Mins £155
---
30 Minute BIOTEC Facials are available from our Barbers Chair in the Finishing Touches Suite for £40.